Red Raspberry Spinach Salad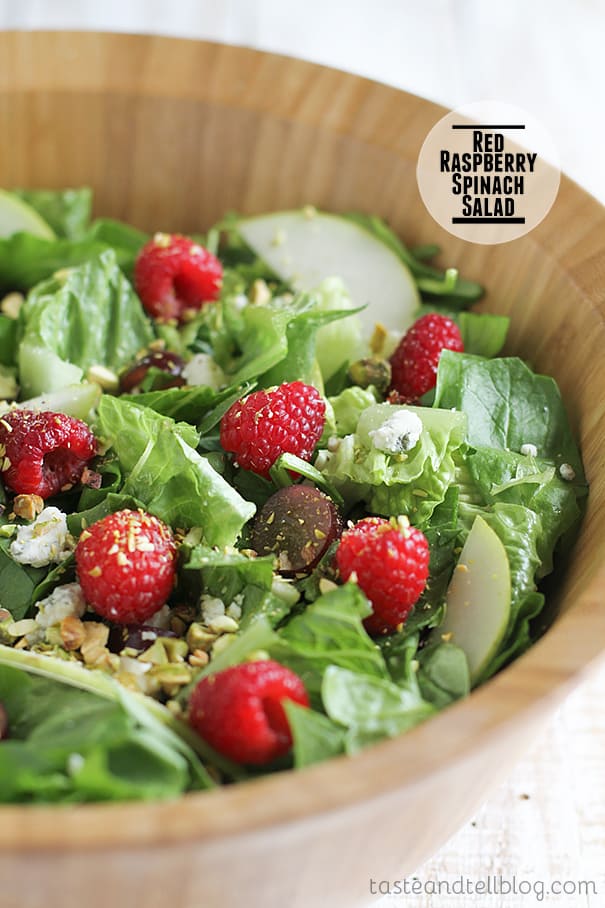 A salad with spinach, romaine, grapes, dried cranberries, pear, raspberries, blue cheese and pistachios that is served with a raspberry vinaigrette.
Originally posted April 30, 2008 – I have come a long way since I first started blogging. Part of that proof is in the post below!! I am a lot more comfortable in the kitchen these days, and while looking through the archives, I came across this post, and it definitely needed some tweaking and updating. So I took on the challenge and changed up this salad into something that I absolutely fell in love with. I added in some romaine with the spinach because I like the crispness and texture from the romaine. And this salad dressing is so easy and flavorful, you'll want to pour it on everything. This may become your new favorite salad!
I seriously don't know if I could make up my own recipe to save my life. I'm always jealous of those people who can make up their own outstanding recipes, but that's just not me. I rely heavily on recipes – from cookbooks, magazines, the internet, family members – it doesn't matter where they come from as long as I have a recipe. I will sometimes play with the recipe, but it is extremely rare for me to just throw something together without a basic ...